The following is a repost from previous years, modified ever so slightly for clarity.

On the occasion of Veterans Day, I wanted to take a moment to thank those who have served.

I've never served in the military, but I've worked for Defense Contractors for the last 10 years; I'm still not sure if that fits the definition of irony or not. However, I don't feel particularly guilty about that; anyone who knows me in person can probably guess I may have very likely been passed over for induction. This much I have said to a number of veterans with whom I have worked with in the Defense industry area, and no one has disagreed with me.

Regardless, had I been drafted (assuming, of course, there was a active draft provision, I was old enough, etc.) I would have likely burst out laughing the first time I was told to drop and give me 20, knowing well that would probably be the last time I ever laughed in the face of an order. In the end, I imagine would have made a good ol' fashioned dog face, I would have done my duty and that would be it; I have no delusions of grandeur that I could be officer material.

Those same colleagues who know me, when they heard me say this, chuckled appreciatively and agreed.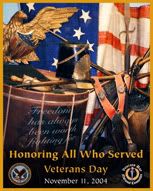 In college, I saw students in ROTC, and while others found it easy to joke about, insult, or in other ways disrespect them, I knew they had more courage than the rest to wear their uniforms on campus, in spite of the narrow minds around them.
Back in 2004, on the occasions of Memorial Day and the opening of the WWII Memorial I wrote a
piece
dedicated to my uncles:
Anthony, one of my father's 3 older brothers, was called to service in March of 1942, just less than 3 months after Pearl Harbor. He served the US Air Force in crash recovery, piloting a PT boat, recovering the many who were downed during the battle of Midway.

Unlike the average GI who served about 2 years (with furloughs), Tony served for 3 years and almost 10 months; no breaks, no furloughs.

A year later, Gasper - my father's oldest brother - was drafted. He first guarded German

POWs

as an MP and later served as a medic, providing triage in France.

My father and his other older brother, Vincent, had poor eyesight and were not eligible for the draft. They, like the majority of others, fought the war on the

home front

, with war bonds, scrap drives, and victory gardens.

6 or so years later, John, my father's brother-in-law, spent years defending liberty in Korea.

To these men, and to the countless others who have served this nations military, and especially to those who have made the ultimate sacrifice, I salute you. My uncles all came home, and it was just in Spring of '04 we said our last farewell to Gasper, but the work they performed will

never

be forgotten, nor should it be.



The men and women of the US Military -- and their families -- have given in ways that only they can understand. The vast majority of all citizens of this country have never served, yet we are fortunate and blessed for those who have. Not all who have served in over 200 years saw battle, but everyone played an important role, regardless, in the defense of this nation. Their families also served with them; whether at a remote post, far from home, or home alone waiting for their return, the families pay prices few can comprehend. In a very minor way, I am aware of this price in regards to my
nephew
, who continues his training at the Air Force academy. My brother, sister-in-law and their children are very proud of him, as we all are.
We, the majority of us who have never served, and can not fully comprehend, are asked to do nothing more but to remember, and to respect their sacrifices. Anyone who attempt to denigrate or insult those soldiers, in peace or in war, deserve the disdain of the rest of us.
As George Orwell said,
We sleep safe in our beds because rough men stand ready in the night to visit violence on those who would do us harm.
Those rough men
and
women are the true heroes of liberty.
---
As a side note, Happy Birthday US Marine Corps!

Semper

Fi

!!!
---
Thank God for the brave members of the United States Armed Forces.
Sphere: Related Content
♦
DiggIt!
♦
Add to del.icio.us
♦
Add to Technorati Faves
♦
Facebook