So I had to put in overtime over the weekend. Big deal.

So instead of getting to work before 7:00 AM this Monday morning, I decided to get a second breakfast. Leaving the house at 5:00 AM generally makes one pekish long before lunch, and as such I usually grab 2 packets of instant oatmeal around 9-10:00, but today I had hankering for BACON (yes, yes, there are many who have tried to tell me the evils of bacon... hey, I found at least one article that defends the humble pork).

So I get to the drive through of the local McDonalds... why oh why did I not drive across the street and go to the deli? Because NJ is famous for its 'NJ Lefts' and jughandles and the like, that's why). Regardless, I went to McD's.

Hanging on the menu board is a crudely written message... I swear it was written on an unfolded napkin. I wish I had my camera to photograph it. Roughly, it look like this: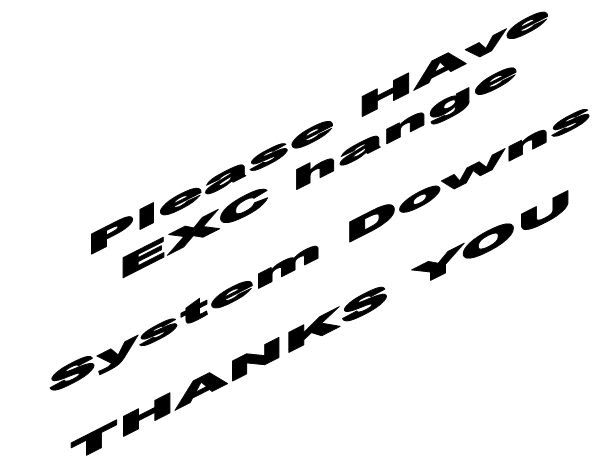 Click to enlarge
Mind you, that is a recreation. The capitalization and spacing are all accurate, but the handwriting was never as neat as this potrays.So I talk to the speaker:HE: Thank you for waiting, welcome to McDonalds; can I help you?Me: Yes, I'd like a #2, coffee, cream, no sugar, that's all.(pause)HE: OK. That's a bacon egg and cheese biscuit...... right?Me: Yes, a # 2.HE: You want the meal?Me: Um, yeah, a #2, coffee, cream.. that's all.
(pause)
HE: OK, a bacon egg cheese biscuit, a hashbrown, and what else?Me: Coffee... cream, no sugar. A #2!HE: Ok... um... that'll be....
(pause)
HE: ... $3.23. Please drive around.(I pull up to the window; the counter guy is a face I recognize as having worked here for at least as many months as I have been at my current job -- yeah, I get bacon cravings from time to time)HE: You want cream or sugar??Me: Just cream. That's all!HE: Ok, that'll be..... um.... (searches for a scrap of paper... I could be wrong but it may be another napkin)HE: $3.23.Me: Out of four .... (as I hand him four singles).He grabs yet another 'napkin' and a pen. I counted... it took him 52 seconds to subtract $3.23 from $4. HE: Here is your change. Um, is my sign still out there?Me: What sign?HE: Our computers are down; no one knows how to work without them. I hung a sign up.Me: Ahh... that was your sign. It's still there.HE: Oh good.I never want to be lectured about the need to raise minimum wage. I never want to be lectured why it's more important for schools to instill 'self esteem' in students as opposed to education. Never should someone dare to discuss
'Outcome Based Education'
. And people wonder why kids from other countries whip our asses...
Sphere: Related Content
♦
DiggIt!
♦
Add to del.icio.us
♦
Add to Technorati Faves
♦
Facebook